Hold Up, You Don't Have to Bake this Oatmeal Chocolate Chip Cookie Dough Before You Eat It
CHILDHOOD DREAMS ACHIEVED — YOU'RE SUPPOSED TO EAT THIS COOKIE DOUGH RAW! (NOW DO THIS DANCE)
WRAPPER BEGONE! THERE'S COOKIE DOUGH TO EAT!

IT'S ALMOST ALL YOURS…CAN YOU TASTE IT? (GO AHEAD, BECAUSE THE WHOLE "NO BAKING" THING)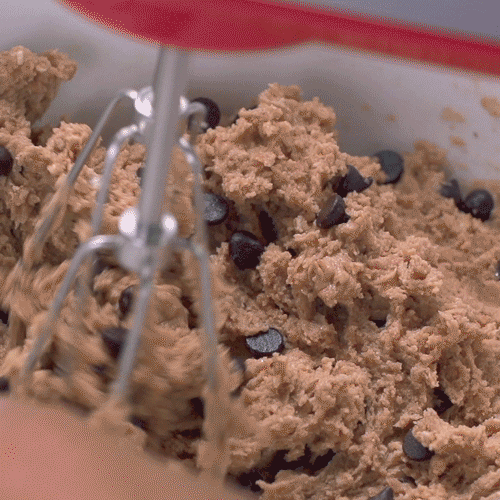 JUST BE SURE TO SAVE SOME FOR YOUR FRIENDS
BUT BEFORE YOU DO, MAKE A BOWL (OR TWO) FOR YOURSELF RIGHT HERE!
NUTRITIONAL INFO (RECIPE CREATED BY JOE CASTRO)
NO BAKE OATMEAL CHOCOLATE CHIP COOKIE DOUGH
Yields:  4 servings  | Serving Size:  1 large scoop
Calories:  219 | Protein: 18g  | Fat: 10g | Net Carb: 12g (0.5g sugar)
Fiber: 6 g | P/CAL: 33%
Prep Time : 5 min  | Cook Time: 5 min | Total Time:  10 min
Method
COOKIE DOUGH
1. Blend Quest Bar® into a powder.
2. Cream together the butter, sweetener, and powdered Quest Bar® until smooth.
3. Add in almond milk, vanilla, and salt.
4. Stir in oat flour, Quest® Protein Powder, quick oats and sugar free chocolate chips until smooth.