I'm the First Guy Ever To Try That Vixen Dance Workout and This Is What Happened
If you haven't dreamt of being one of Beyonce's backup dancers, then you're probably a Russian spy. It should be on the American Citizenship test: If you choose Answer B: "No, why would I want to be that close to Beyonce?" It should be an immediate red flag, disqualification.
The Vixen Workout is based out of Florida, with a couple of satellite classes in New York, and a SINGLE instructor (Sonja Edel) in LA (which is where I live). It's a high-intensity dance workout built on the sneaky and totally accurate belief that we all secretly want to Slay like Bey.
But… what if you're a dude. Cuz I am. Can I shred my enemies (spare calories) on par with the #VixenArmy?
Full disclosure, this is me:
I like to think I'm fit. I work out hard. I lift weights. I body build. Heavy things are my friends. Grace, poise, elegance, ease however… I'll admit those things are totally foreign to me. I tried to twerk once. I looked worse than Miley. A lot worse.
The Vixen website proudly proclaims in bold letters: "We Swirl. We Boot-Clap. We Surfbort."
I surfboard. In fact, I'm on a surfboard almost every weekend. I have never in my life, however, attempted to "surfbort."
I know it's a Beyonce lyric. …Is it also a dance move?
As a three-year Emcee for nationwide dance competitions (yes that's a real thing, and yes I've really done it), I thought I'd seen ALL the dance moves. Apparently not. And now it's time to come out from behind the mic for my ultimate dance test.
I am ready to werk werk werk werk werk werk.
Here are the 7 things I learned.
1. DANCING IS HARD, GUYS
I'm expecting light warm-ups like other group fitness adventures I've tried. And the Vixens DO warm up… but it's INTENSE. Sonja told me ahead of time that I would be the first man who'd ever taken her class, so I started off feeling pretty special. Ten minutes in, all I felt was sweaty.
Now, I feel like I should tell you this: I'm a pretty good dancer. I'm no Justin Timberlake, but I like to think I can channel Thriller-Era Michael Jackson after 45 minutes of getting into the groove at the right kind of club. But the Vixens jump straight to minute 45 the second they press play. Uh oh. This is gonna hurt.
2. THEY'RE NOT JOKING ABOUT THAT #VIXENARMY THING
The Vixen Dance Workout is based on the dance routines of the MTV music video vixens of the 90's. Basically, you get to be a Pussycat Doll. Tonight, I learned just how hard it is to "loosen up your buttons, babe." There was an optional 3 minute water break halfway through the workout… and NOT EVERYONE TOOK ADVANTAGE OF IT! The 'Army' part of the #VixenArmy hashtag is no joke. This is basically booty-popping boot camp.
3. "THE KITTEN" HAS REALLY SHARP CLAWS
Amidst an hour of Swirling and sashaying and surfborting, you'd think the simple act of bending over would be easy. When we attempted "the kitten," we were taught to slap our hands to the floor on beat and then used those same hands to crawl up our legs… sexily of course. Also, you're supposed to thrust your hips (from the core) while half bent over. If you're having difficulty picturing what this looks like, watching me do it wouldn't help. I AM APPARENTLY MORE OF A DOG PERSON. I wasn't bringing sexy back, so much as I was bringing sexy back spasms. For me, it was less "me-ow" and more plain-old "-ow."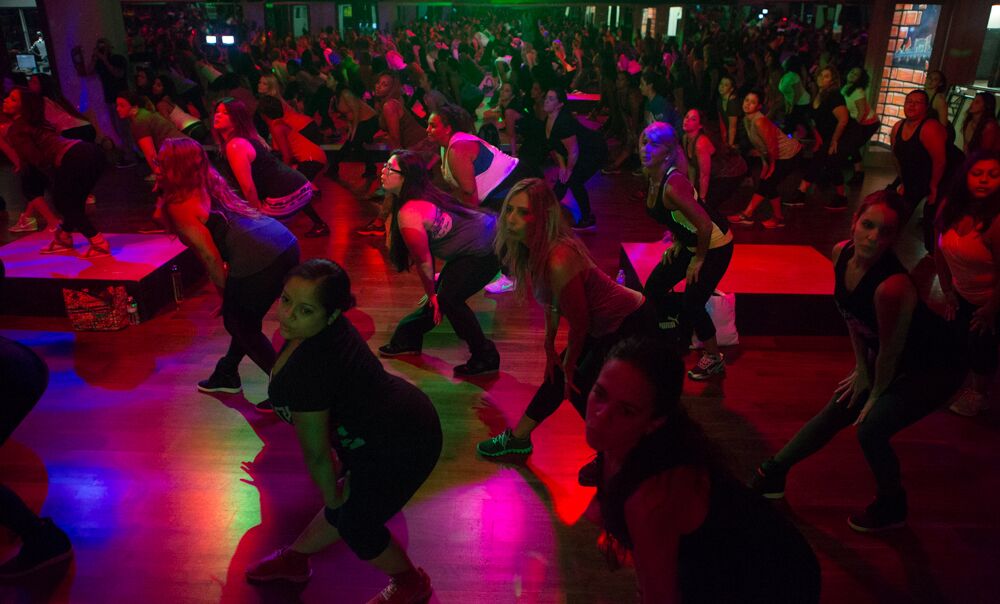 4. APPARENTLY I AM A HUMAN VIOLIN
A violinist is basically an oxymoron wrapped up in a musical instrument. One hand moves delicately across the strings… Meanwhile the other arm is murdering said strings with a series of violent slashes. One of the Vixen routines is basically the full-body equivalent. While fist-pumping up and out, we'd hop on one leg in the same direction as our fist pump. The opposite leg was supposed to be kicking…or swinging…or gliding? It was supposed to be doing something to imitate the motion of pushing ourselves across the floor. And theoretically, the opposite arm was supposed to be doing something too, but I couldn't juggle that many appendages at once.
5. DANCING BURPEES ARE EVEN WORSE THAN REGULAR BURPEES (!!!)
Burpees! Yes! Burpees I can do! I've done these at CrossFit. I GOT THIS, RIGHT? WRONG WRONG WRONG. These girls are crazy. They don't just pop back up after hitting the floor. That would have been far too easy and not nearly "sexy" enough. Instead, we hit the floor and then moved into a 6-count of shoulder rolls and ankle shuffles. Only after I was sufficiently nauseous were we told to hop back up, shake our booties, and then hit the floor to do it all over again. CrossFit Boxes nationwide, watch out… the Vixens are coming for you. (Word of advice: Let them, it'd be useless to resist.)
6. TOO FAST, TOO FURIOUS, NO VIN DIESEL
Look, I'm a bit of a boss on the dance floor (ex: I slide into a group, spin around a few times, drop some jaws, grind around, and get outta there before breaking too much of a sweat). Mingling with dozens of rhythmic strangers on the dance floor is great, because there are no expectations… and you can use that same impressive move over and over again and NO ONE WILL NOTICE. But the Vixen Workout wasn't a nightclub. This was a rehearsal studio — meaning everyone danced in the reflection of a full-wall mirror. The class was its own audience and everyone could see me. There was nowhere to hide. It was the stage I wished I could step onto after all those years emceeing. After the Vixen Workout I can safely say, be careful what you wish for!
7. #ArmyRecruit
By the time the cool-off FINALLY came my legs felt like squiggly, shaking, gelatinous blobs of tenderized meat. We all piled together for a quick group selfie at the end, throwing up the V-A "Vixen Army" hand sign. Then I heard the words that filled me with excitement and dread at the same time, "all right ladies, let's keep it going, same time tomorrow!" Honestly, I was tempted to attend, but I needed to go write this article. Perhaps next week. Hopefully I'll finally stop being sore after a full seven days. In the meantime, after Sonja's slayage, I'm in the Vixen Reserves.
Vixen Master Sonja Edel is building her Vixen Army five nights a week in the Los Angeles South Bay. More info and schedules between LA, NYC, and Miami can be found HERE.