Quest Nutrition Announces Partnership With Team Curse
Quest Nutrition is extremely pleased to announce a brand-new partnership with Team Curse, a global gaming organization that sponsors dedicated professional players in the eSports arena. Team Curse currently supports professional players in League of Legends, Call of Duty and Super Smash Bros. among other extremely popular games.
"Quest is excited to partner with Team Curse and support the e-sports community. Curse players will be able to stay healthy, sharp, and improve their in-game performance by replacing junk snacks with Quest Nutrition products." said Nick Robinson, Chief Marketing Officer at Quest Nutrition.
This partnership highlights Quest's commitment to the healthy living lifestyle – with our aim being to help Team Curse's elite players reach their dietary and fitness goals without compromising on taste or quality.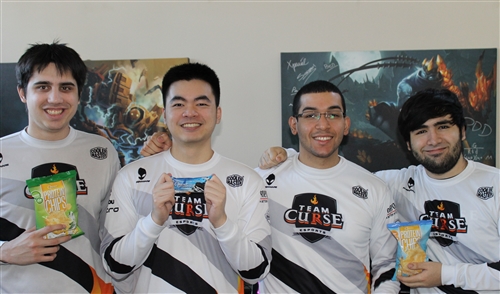 Steven Arhancet, Owner/General Manager of Team Curse added, "We're not asking people to radically start some crazy diet or insane workout regimen – we're asking people to care about what they eat and how much exercise they do, to what degree is up to each person.
Working out and eating right reduces stress, improves self-confidence, sharpens memory, and allows you to get more done – if that wasn't enough, it helps you compete at the highest level."
To celebrate our brand-new partnership with Team Curse, we're giving away 10 boxes of Quest Bars to 10 lucky Team Curse fans! Comment on any of the Curse video profiles (linked below!) on the Quest Gaming YouTube channel using the hashtag #OnAQuest and you could win!
Steve "LiQuiD112" Arhancet
David "Cop" Roberson
Diego "Quas" Ruiz
Christian "IWillDominate" Rivera