The World's Healthiest Apple Pie
Some people can eat apple pie in all of its sugary goodness and get away with it. Some even seem to get leaner. I, however, am not one of those people. But as a lover of food – especially sweet food and treats, I've got to find things that are mind-bendingly delicious and yet, somehow, someway, still good for me. And with Thanksgiving right around the corner, I'm feeling desperate for food that at least feels indulgent.
That's where Quest Apple Pie comes in.
Like Bubba Gump and his beloved shrimp, I've eaten Quest bars in just about every way imaginable: warmed, fried, barbequed, crumbled, mashed, baked and in a pudding – just to name the successful ones. But nothing compares to the Apple Pie bar broiled to a golden brown crisp.
But don't take my word for it. Let Quest Elite Athlete Courtney Prather show you the way!
httpv://www.youtube.com/watch?v=okDTwI4ocEE
Quest Apple Pie How To – As easy as, well… Pie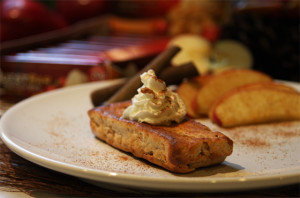 Take a Quest Apple Pie bar, unwrap it and put it on a cookie sheet
Switch the broiler on in your oven
Place the Apple Pie bar directly under the flame – only a few inches below the flame is possible
Wait – about 4 minutes – for the top to turn golden brown
Flip it over and wait – about another minute or two (second side browns faster, because it's already warm) until it too is golden brown.
Remove from oven and eat while it's still warm
When done properly, the outside of the bar gets crunchy like a crust, while the inside – including the pieces of apple – get warm, soft and gooey. You will be freaked out by how much this tastes like Apple Pie. Give it a shot and then let us know what you think on Facebook.