Turn That Empty Protein Powder Canister Into a Protein Pumpkin!
ON THIS EDITION OF QIY WE'RE GOING TO SHOW YOU HOW TO MAKE YOUR OWN PROTEIN JACK-O-LANTERN FROM AN EMPTY PROTEIN POWDER CANISTER.
START BY PEELING OFF THE LABEL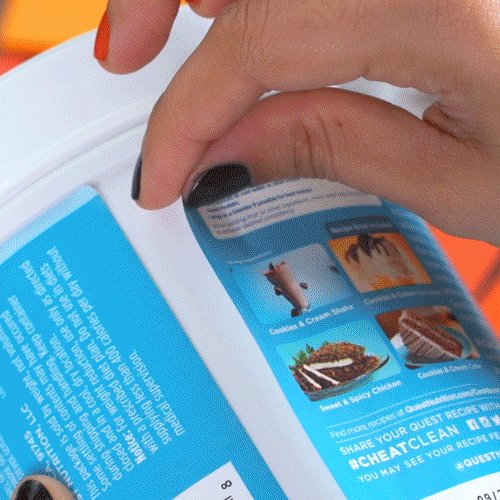 NOW IT'S TIME TO CREATE YOUR JACKED-O-LANTERN DESIGN
THIS IS JUST OURS, MAKE YOURS INTO WHATEVER YOU WANT!
USE REGULAR OR DOUBLE-SIDED TAPE TO SECURE YOUR DESIGN BEFORE…
ADHERING IT TO THE INSIDE OF THE CANISTER AND DROPPING IN YOUR LIGHT SOURCE — VOILA!
CHECK OUT THE FULL VIDEO FOR THE DETAILS AND CRAFTING INSTRUCTIONS BELOW!
MATERIALS
Quest Powder Canister
Scissors
Black Construction Paper
Ruler
Scotch Tape (double sided preferred)
Pencil or Chalk
Electric Candle
DIRECTIONS FOR ASSEMBLY
Rinse the inside of the canister and lid thoroughly to remove any excess powder. Powder will prevent the tape from adhering properly
Peel the label until the back half of the canister is exposed
Cut off the loose label ends with scissors and set the canister to the side
On a piece of black construction paper, take a ruler and measure out a box to draw your main design in. Draw your box in either pencil or chalk for visibility.

This can be any size you like. I chose to draw a box the height of the canister and fill it to the edges.

In the free space around your box, add extra decoration, like bats
Take your scissors and cut out your designs. Dispose of excess paper.

For circular designs, like a "Q", lightly fold the paper in half and make an incision into the center. Work your scissors into the incision point and gently cut out the inner circle.

Lay out your main design on your work surface, and gently place a long strip of double-sided scotch tape across it

Large designs might require multiple pieces of tape
If using single-sided tape, attach tape to the back of your design

Bring back your canister, remove the lid, and position it with the exposed back facing you
Pick up your design by the tape ends, and place it inside the canister along the wall of the exposed back.
Once the double sided tape has adhered to the canister wall, feel free to readjust the spacing of your design
Apply tape to the extra decorations and add them to empty spaces around your design
Place an electric candle inside the canister and screw on the lid

If stability is desired, feel free to hold the candle in place with tape

Display your shadow box. Happy Halloween.