Quest Chocolate Stuffed PB Cookies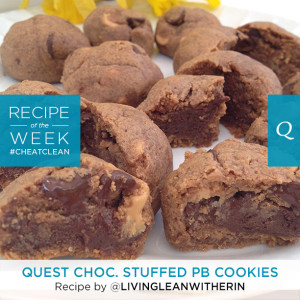 There are cookies and then there are STUFFED cookies. Hiding inside these delicious #CheatClean cookies is a delightful chocolate surprise. Try this amazing recipe by Erin Woodbury.
Ingredients:
1 Double Chocolate Chunk Quest Bar, cut into 8 or 10 pieces
Dough Ingredients:
1 cup natural PB
1.5 scoops protein powder (I used Cellucor PB marshmallow and Chocolate Dymatize, which is part casein)
1/2 teaspoon vanilla extract
4 tablespoons liquid egg white
3 packets granulated stevia
1/4 cup PB chips
1/4 cup Lily's no-sugar chocolate chips
Directions: Preheat oven to 350
Mix the dough ingredients together in a bowl with a spoon. Mixture will be thick. Form into 8-10 balls. Press one piece of the Quest bar into the center of each cookie and roll with hands until it's fully inside. Place on a nonstick cookie sheet (a silpat is ideal). Bake for 10-11 minutes. They will be soft and gooey and delicious!
Nutritionals (makes 8): Calories: 230. Fat 12g. Active Carbs: 9g (5g fiber, 2g sugar)  Protein 13g.
Erin Woodbury is a Master Trainer for R.I.P.P.E.D., co-developer of R.I.P.P.E.D. 4 Kids, a freelance writer, and works with clients as a certified Venice Nutrition Coach.
You can find Erin at:
Facebook I Ripped Planet  I Instagram
If you have amazing Quest recipes to share, email us at [email protected] for the chance to be featured!