Transformation Tuesday | Losing 294lbs – one betterchoice at a time!
When most people are the butt of a joke, they get angry. I got motivated. I had no idea I was 400lbs. Thoughts of dying raced through my mind. I realized, at that time, there were a thousand ways a 35 year old, obese man could die. The only question was what WOULD I do to change it?"
Did I say obese? …Yep, OBESE! Both of us.
That was my tipping point. Tipping points, by definition, are when small things make a big difference. We go through life asking God questions but many times, we find ourselves not willing to accept His answers. Even after losing my mother to colon cancer, I still refused to acknowledge the answers that were right in front of my face!
Maleka and I continued going about our everyday lives unwilling to see the bigger picture. That bigger picture was the two of us. (It WAS a really BIG picture!) The bigger picture included our boys, our family, our quality of life, and our future.  What kind of future would we have if we continued our bad eating habits, being inactive, and simply, continued not being focused on changing anything about our health and our lives? Well, we will tell you…
Our weight loss journey began in 2006…
My husband and I are from New Orleans. If you know New Orleans, then you know the essence of New Orleans…FOOD! We absolutely LOVE TO EAT! At no time prior to or after Hurricane Katrina did we realize our eating habits and weight were out of control. We did not have any diagnosed health issues. To be honest, we never saw ourselves as being unhealthy or being obese. It's funny how we walk around unaware of our true selves. It wasn't until after a life changing experience in 2006, that we decided to change our lives.
After coming down with a sore throat, Eric went to see his doctor. Of course with any typical doctor's visit, they need to take the basic vitals. At the point in which they needed to take my husbands weight, the medical scale could not read it. The nurses made sly remarks about the scale and stated they couldn't figure out why the scale was not working. So they gathered other nurses and to my husband's surprise, he became the butt of their jokes. He heard them laughing at him. The truth was, the reason the scale was not working was because my husband's weight exceeded what the medical scale could measure.
At that moment, he weighed 400 lbs!
When he came home, I could see how terribly angry he was. I asked him to tell me what happened. He proceeded to tell me about his experience. He was angry. What was surprising was that his anger was not towards the nurses, but he was angry with himself for allowing his weight to get out of control.
I, myself, weighed in at 276lbs! I recall the day I asked Eric what was HE going to do about it. He told he knew he wanted to make some changes that day! In the beginning, I resisted the idea of change. I knew change was needed but I was afraid. I was afraid of the unknown. I did not know what that change was going to look like. The first thing I thought about was all the things we would have to give up. So, I resisted and made up all kinds of excuses as to why I could not get started with him.
However, Eric was adamant about making some changes.
After about two days of him eating better and exercising, he told me he wanted to talk with me. Eric sat me down and said he had one question for me. "If you don't take time out for you, then who will? You take time out for me, the kids, your clients, family, & everybody else but you don't make time for you. The truth is, you are the only person who can make time for you." He told me he wanted us to take this journey together so we could be healthier and be around for our boys.  He wanted us to take this journey together.
That was my "A-HA" moment! That day, we got a few things we would need to begin working out at home. I found a few exercise DVD's and we mapped out a walking route. We started reading so many books on health, nutrition, and exercise. We learned and reinforced everything we learned! We found healthier ways to fix our favorite foods, we committed to working out 5-6 days a week, and yard work became a new perspective on fitness…a great way to get in activity!
Just shy of one year, 10 months to be exact, Eric and I lost over 100lbs each! A few months later, Eric dropped 156lbs & lost 138lbs…literally half my size!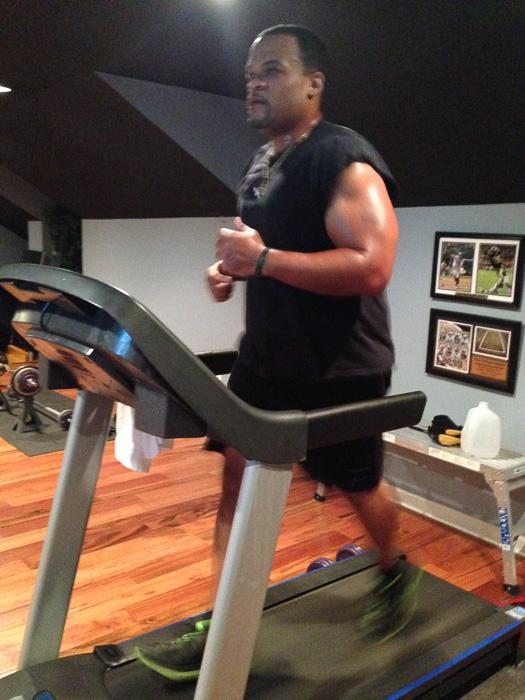 To make the journey that much sweeter, in 2011, we were thrilled to be 2 of 100 guests appearing on Oprah's Weight Loss Finale Show! It was an amazing experience – everyone who participated was a reflection of what's possible when you make up your mind to change your life. We had no idea how that moment would change the course of our lives into something so much bigger.
After the show aired, we were bombarded with questions. We spent a lot of time helping others, offering tips, support, and motivation. The more we offered, the more we spoke, the more we told our story, the more people would email and want to connect with us.
As a plan that only God could create, we launched betterchoices.co. Our purpose & mission is simple: to teach, motivate, and empower individuals, couples and families to change their lives, one better choice at a time. We realized our 294 lbs weight loss was not a reflection of a diet or quick fix. It was the result of making better choices every day. All those choices, not matter how small, empowered us to create a healthier lifestyle for our family and ourselves.
This year we celebrate nine years of not only losing the weight but also maintaining it – our sustainability is a clear indication that this journey is truly a lifestyle change.
Malcolm Gladwell sums it up best, "The key to good decision making is not knowledge, it's understanding. We are swimming in the former. We are desperately lacking in the latter." With our company, website, and social media community, we are on a mission to help others improve their health and FINALLY lose the weight through education, support, daily motivation, and awareness. Our website, www.betterchoices.co is an online resource offering healthy lifestyle tips, food facts, motivation, videos, recipes, various health & fitness blogs, as well as, personal & group coaching services, speaking, & live online classes.
Now, remember that part where we said WE LOVE TO EAT? We mean it… we love to eat! The one thing we learned after trying stuff like wheatgrass & buckwheat flour was that if this was going to be sustainable for us, we had to eat foods we truly enjoyed. In August 2013, we published our first cookbook – "Let's Cook! The BetterChoices Healthy Lifestyle Cookbook." It is a healthy lifestyle guide and cookbook created to teach individuals the basics of creating a healthier lifestyle and 50 of our favorite recipes made healthier!
This year, we released our second cookbook, "Let's Cook! Healthy Dinners with BetterChoices." We understand that most people struggle with dinnertime. While we all want to eat healthier, many are just not sure how they can prepare dinners that are simple, healthy, & delicious.  This cookbook will show you just how simple it is to fix healthy dinners your family will love!
As we look back, it amazes us that Eric wore a size 60/4XL & at my heaviest, I wore size 22/24W. It has been one AMAZING journey!
Follow Eric and Maleka on Facebook, Instagram, YouTube, Twitter, Pinterest and Google+!
Team Quest – We are here for you! Share your transformations and triumphs with us on Facebook, Instagram, Twitter, or email them to us at [email protected]. Remember that these transformations took hard work, discipline and a plan. Quest products are a delicious component of, and not a substitute for, an exercise regimen and effective diet. The Quest Community is always there for you if you need help, inspiration or motivation!