How I went from 'Gamer Hater' to 'Hardcore Gamer' in 12 Months
August 23, 2015
I'm in the stands overlooking a sold out Madison Square Garden as five guys walk onstage to applause from a sea of screaming fans. The lights dim and the excitement intensifies. Single spotlights illuminate each person as they stride to their positions confidently, ready to perform. The group has been preparing for this moment for the past 6 months and they're finally ready for the biggest moment of their lives.
This, however, is not a rock show. And no, these five are not pop stars. This is the North American League of Legends Summer Finals and on stage is Team Liquid, one of America's most popular eSports teams. The crowd erupts as the players are introduced, with Chae "Piglet" Gwang-Jin, a former world champion, receiving particularly raucous applause. And even though I'm clapping my hands, smiling, and cheering, I can't stop myself from shaking my head at this peculiar spectacle.
A year ago, I didn't play video games, let alone watch them. Now I'm in an arena filled with fans about to watch a professional game unfurl. I turn to my seated neighbor, Matt "LiquidMatt" Elento — probably the calmest person in the arena — and say something along the lines of "amazing, isn't it?" to which he responds with a slight nod and a raise of the brow. I'm fanboying hard and he's cool as a cucumber. This is my first major eSports event with an audience this large and a year ago League of Legends wasn't even on my radar at all. So, what exactly am I doing here?
September 15, 2014
"Wait, you're calling from Quest Nutrition…the protein bar company?"
Steve Arhancet, owner of the gaming organization Team Curse asks, confused. He doesn't usually receive cold calls from brands interested in sponsoring his team, let alone from those that don't sell monitors or keyboards.
On the other end of the line is a brand new Quest employee who knows nothing about gaming and even less about eSports: me. I'm not entirely sure why my boss, Quest's CMO Nick Robinson, had me reach out to Steve, known in eSports by his gamer tag "LiQiuD112". And I certainly didn't think that this phone call would be the first step towards building Quest Gaming, the eSports and gaming arm of Quest. But I was curious, so I gave him our pitch.
"We want to educate the gaming community on the benefits of living a healthy lifestyle…And we want your team to help us do it."
Our goal with Team Curse, who eventually merged with and took the name of Team Liquid, has always been to share our overarching message: "Gamers practice like athletes, gamers eat like athletes."
Quest Gaming has focused on community building within the most popular online PC game, League of Legends. League is a 5 v. 5 online strategy game that is played by over 65 million people worldwide per month. The goal of each 30-45 minute match is to destroy the enemy's base before they topple yours.
The gameplay itself is simple: teammates work together to destroy enemy objectives on the road to the opposition base – called the Nexus. Yet the game's complexity lies in mastering the 125+ characters and nearly 200 items. Each character – or champion as they're called — has it's own unique abilities, strengths, weaknesses, and power spikes: moments in the match when they're especially strong against the opposing team. The game is extremely tactical – synergy and communication between teammates always trumps individual skill and therefore teams practice upwards of 10 hours per day to perfect their cooperation, mechanics, and strategies. League — much like soccer, football, and basketball – is a team sport.
December 18, 2015
I wake up and hit refresh on my laptop, which is still on my nightstand. The night before we released our first ever major gaming video content piece, "Piglet's Christmas Surprise" is an emotional story about Team Curse's newest member. One of the world's best Attack Damage Carry's (commonly dictated as "AD Carry", it's one of the five positions in League of Legends), Piglet was feeling homesick and wished for a Korean Christmas with his family and friends to upwards of 5,000 live viewers on his Twitch stream.
To make him feel at home, Quest Gaming and Team Curse decorated the Curse house and surprised Piglet with Korean treats and a warm welcome; the resulting video was moving and relatable, even for non-gamers.
I went to sleep with the YouTube view counter at 10,000 views and I woke up with it at 110,000. I jumped out of bed and got to HQ as quickly as I could. I was ecstatic, overcome with a sense of joy, accomplishment, and slight bemusement. We hit #1 on the League of Legends subreddit and also made the Reddit front page with a video about pro gamers. This scrappy little video we put together in less than a week shattered every expectation and made me "lol" (pun somewhat intended) on the inside.
I vividly recall a time early on in our relationship with Team Curse, prior to the release of the Piglet video, when I went to the gaming house to drop off some Quest Bars. I saw Christian "IWillDominate" Rivera, the team's jungler practicing. Being completely unfamiliar with the game I asked him to teach me the rules and how to play. He chuckled and then asked me if I was joking. I wasn't.
How hard could this game be? How good is he really? I was frustrated with his reaction towards my request but over time I understood exactly where he was coming from. To him, a professional, it was unfeasible that one of his sponsors wouldn't know a thing about the game he's played all day, every day for the last four years. To me, the noob, this was a wake-up call. I had to learn what this game was all about. I needed to know everything about League and I had to completely reverse my own judgments about video games and those who play them.
League took me roughly a year and a half of daily practice and constant study to truly understand. I would play multiple hours a day (double time on weekends), read guides, study YouTube videos, watch live streams, and analyze professional matches from Korea, Europe, and the United States. I've been called 'peasant', 'noob', 'idiot', 'monkey' and a bevy of more poignant slurs in games after making questionable decisions. Even after all that dedication and time spent, I'm still just a mediocre player at best. But it's my undeterred quest to learn this game (and its crazy addictiveness) that has kept me engaged.
In his book "Outliers", Malcolm Gladwell says that it takes 10,000 hours of dedicated practice to obtain mastery in any given skill. I'd argue that at the top of the League of Legends ladder it takes 5,000 hours a year to stay in top form. In a game that's consistently changing – with new characters, items, and optimal strategies – players like Piglet, Soren "Bjergsen" Berg, and Lee "Faker" Sang-hyeok stand out as rare examples of competitors who are willing to do anything to win; namely – adapt.
With competition this fierce, players have to do whatever they can to stay in top form and thus, healthy eating and consistent exercise have become a priority for all top tier professional teams. Our partnership with Team Liquid has always been predicated on players taking good care of themselves and utilizing our products to help them achieve their goals. Diego "Quas" Ruiz, Team Liquid's former top laner lost nearly 20 pounds while he was on the team. Liquid Matt, my neighbor from Madison Square Garden, has dropped nearly 30 pounds in just the last 4 months.
But more important is the effect that these guys have on the gaming community. Their influence and positive attitude is inspiring; their fans' response to our collective message is electric. And never more so than during their game at Madison Square Garden.
August 23, 2015
Team Liquid and Team Impulse are vying for the third place spot in MSG and, although this isn't the finals, the stakes are high. If Liquid wins this best of 5, they can qualify for "Worlds" – League's penultimate yearly tournament – with a Team Solo Mid victory the following day. The crowd is buzzing after the first two games are split 1-1.
Being in New York City and feeling the crowd's enthusiasm is the highlight of my eSports experience. I've met with players, coaches, team owners, analysts, casters, content creators, and fans but nothing can match the feeling of cheering for your team in a packed arena. And screaming alongside the rest of the crowd during Dominate's Gragas flash-body slam and Kim "Fenix" Jae-hoon's Orianna shockwave baron steal made me feel like I was finally and truly a part of this community.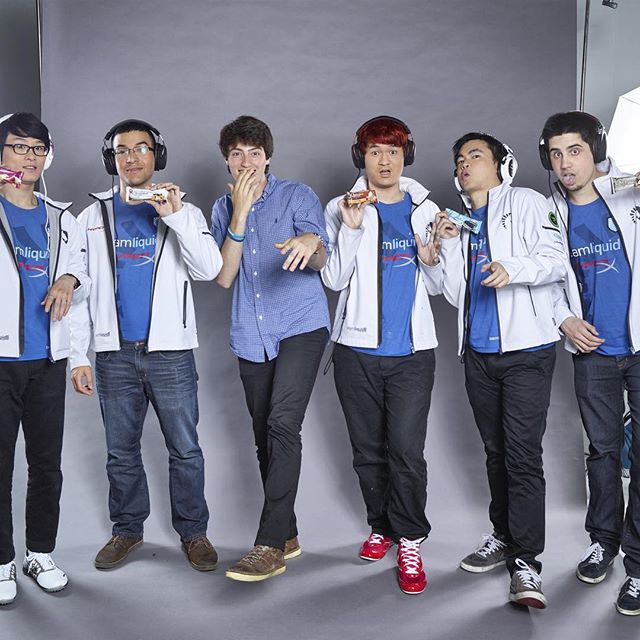 My knowledge in the sport – and the industry – has taken shape following thousands of hours of gameplay, research, and ceaseless questioning. I speak with whomever I can because, as Quest Mindset bullet #13 states, "Everyone has something to teach you."
And because I was leading Quest's charge into the gaming community, I had to know what the hell I was getting myself into. Today, the global eSports market, which covers competitive gaming, is valued at roughly $750 million. With viewership that surpasses that of the NBA Finals and traditional media outlets like ESPN and Yahoo building dedicated eSports coverage teams, the industry is nascent. Current and former professional athletes such as Shaquille O'Neal, Alex Rodriguez, and Rick Fox have invested in pro gaming teams; colleges are beginning to grant full ride scholarships to gamers; million dollar player salaries are not too far off and (other) non-endemic sponsors are entering the space.
As for me, I'm incredibly lucky to call League my newest passion. I'm humbled for the incredible conversation Quest Gaming has been able to have within the gaming community and I'm grateful for the amazing relationship we've built with Team Liquid and others in the eSports and gaming landscape. But most of all, I'm excited about the future of the industry and Quest's involvement within it.
I write this on my way home from the second biggest eSports even I ever experienced – the League of Legends Spring 2016 North American Finals. It was held at the Mandalay Bay events center in Las Vegas and the arena was just as vibrant as it was in New York City. The difference this time, was that I knew what I was getting myself into – I know the game, I know the teams, I know the players and I know the strategies. But most importantly, I know the community. And that's because I'm a part of the community. And boy do I love it.
Yoni Ginsberg is the Marketing Associate at Quest in charge of Quest Gaming. You can follow his tirades on Twitter and escapades on Instagram.